MOGI Guardianship and Advocacy Services

Our sole function at MOGI is to serve as court appointed guardian of the person, for developmentally disabled adults. Depending on the type of guardianship, our service consists of one or more of the following responsibilities:
Determine if the living arrangements/day program are appropriate for the client. Make a request for relocation if necessary.
Visit quarterly, or more as needed.
Approve or deny authorization for medical treatment.
Attend all PCP meetings, IEPC's, and any other situation where representation is important.
Available for emergencies; on call 24/7
Assist with pre-paid funeral planning.
Assist with Special Needs/Pooled Trusts.
Sign all documents, releases and contracts on behalf of our clients.
We serve as partial, plenary or stand-by guardian of the PERSON only. We do not serve as guardian of the estate or in a situation that requires Co-Guardianship.
We currently employ three staff members, Michael Vincent, Executive Director, Director Donna Erb, who are responsible for the entire operation of the agency. Mary Phillips, our secretary, is in charge of maintaining client files, scheduling meetings, filing annual court reports, etc. We also have eight contracted advocates that monitor our homes.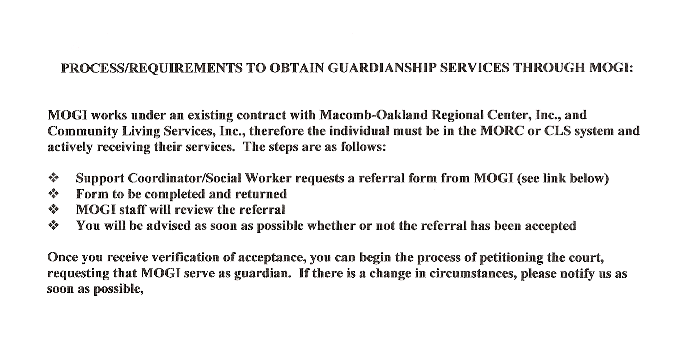 PLEASE NOTE:
If MOGI has been named as Stand-by guardian, we will automatically become successor guardian when the primary guardian can no longer serve. To receive the new Letters Of Guardianship when filing the necessary paperwork, please include an Acceptance of Appointment, signed by us, which will speed up the process. We have those forms here at the office.
please click on referral.doc (below) to print a mogi referral form

BIRTH CERTIFICATE APPLICATION FORM:
The link below has a printable 2 page form (one is the instructions).

Please fill out the form, following the instructions, and forward it to us along with a check made out to the STATE OF MICHIGAN in the amount of $26.00. MOGI will sign the form and mail it to Vital Records completing the process.

Note: It must be signed by us!
............................................................................................................................