MOGI

------------------------------------------------------------ NewsPage--------

A GREAT SUCCESS STORY

Ruth met Jeff several years ago at Life Skills, where she worked and he attended. They grew very close. Ruth would often visit him at his home, take him on outings, bring him to her home for overnight visits and even take him on vacation with her.
Ruth supported Jeff through thick and thin. She would go on doctor and dental appointments with him making sure he was being treated just like every other guy. Since Jeff has some delicate medical concerns, (that a lot of us don't have to deal with), he needed a little extra TLC and someone to watch over him. Ruth was the perfect friend for him! Ruth eventually became Jeff's personal advocate, but her real dream was to be in a shared lives program with him, through MORC.
First, Ruth made sure she had a home that would accommodate Jeff and meet all the requirements of the program, including being barrier free. After all the necessary paperwork, inspections, and approvals it finally happened! And WOW did it happen! The condo they share is one beautiful place! Although, it looks great and Jeff has a gorgeous room, that's not the best part of the story! The best part is how Jeff has blossomed from all that extra personal care Ruth provides. It really shows! Jeff has also put on a few extra needed pounds, and looks great!
All I can say is Jeff is one lucky guy! Ruth just wanted the opportunity to give Jeff the life he so much deserved, and it turned out to be a great success!
THANK YOU RUTH FOR CARING!
mogi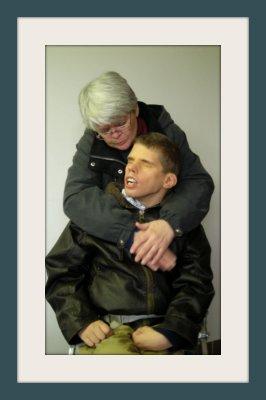 ~~~~~~~~~~~~~~~~~~~~~~~~~~~~~~~~~~
read all about it!read all about it!read all about it!read all about it!read all about it!read all about it
Job Opening: Experience in supporting adults with intellectual disabilities. Education in human services desirable. Letter of interest and resume to MOGI, 15600 19 Mile Road, Clinton Township, MI 48038.
~~~~~~~~~~~~~~~~~~~~~~~~~~~~~~~~~~